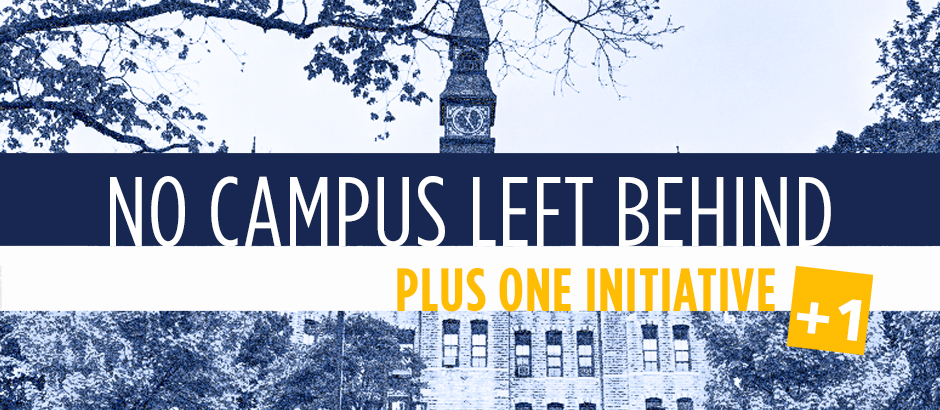 This Year's Plus One Initiative
The 4+ years a person goes to college is one of the most important times of their life. Students often determine what they want to do the rest of their lives and who they want to befriend and what they choose to believe. Since very few young people attend a life-giving church or Bible-based ministry while in college, these major decisions are often made without the input of God or other Christians.  Too often parents send their child to another city, to a strange environment and don't understand why their son or daughter abandons their faith.
It is during this season that prayer for young people is so critical.  Many influential people including professors and roommates and classmates help a person determine their identity and values. What happens on college campuses including what is taught (or perhaps not taught) greatly impacts each student.
The future leaders of our government, media, businesses and arts are right now attending an American university, and these 18-24 year olds needs our prayers! The CDOP is a day for ALL colleges to be prayed for! With over 3000 four-year universities, this effort requires a minimum of 3000 individuals, groups, or churches. In the past few years, we have found that major colleges have been adopted for prayer, but many smaller, lesser-known schools remain un-adopted.
This year, we are believing that not one college remains unprayed for or unadopted. Jesus would leave the 99 sheep and go after the one lost. EVERY student and EVERY college matters! None are insignificant in Christ's eyes and ALL are so valuable to the Lord.
In order to follow Christ's command and leave none behind, please consider adopting more than one campus in prayer.  First, choose a school that you may know or have a connection with. This may be your alma mater or the one in your city. Then search the list of schools that have not been adopted in the last 2 years and choose one of them. When you pray on the CDOP, pray for both campuses, their students and professors and college life.
It is important that you register your campus adoptions online so that we know which schools are remaining to be covered in prayer. Of course, it is hoped that every campus will have multiple praying parents, groups and churches that adopt them for this special focused Day of Prayer. Can any of us neglect prayer for the next generation during this critical time? It is incumbent on every one of us to sincerely cry out to our God for the college campuses that are near and far away from us. Every young person wants to know the love of God and deserves the prayers of others.
Authored by Vicky Porterfield, PrayerFields – President, Passion Conferences – Intercession Team Leader