The Power & Influence of Praying Parents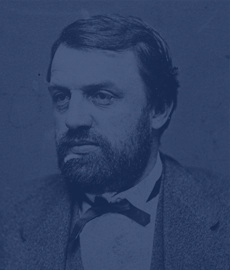 Above everything else that D. L. Moody accomplished in his 40 some years of ministry, his work among college students proved to be his greatest and most enduring achievement. Ironically, during the first half of Mr. Moody's ministry he felt very uncomfortable around college students and usually tried to avoid them. Those who knew him best said this was because Moody felt self-conscious and inadequate due to his lack of education. Moody only attended school for about three or four years and was sometimes clumsy with the English language. He honestly felt that he had very little to offer students in terms of personal experience or intellectual insight. However, these feelings of inadequacy and insufficiency only caused him to depend more upon the all-sufficiency of Christ. Moody eventually learned that his weakness and limitations were actually an opportunity for God's empowering grace. "God resists the proud, But gives grace to the humble." -James 4:6.
Moody's Battle at Cambridge
D. L. Moody had enjoyed some limited success at Yale and Princeton in America, but his first significant work among college students began in Great Britain in 1882. After several invitations, Moody reluctantly agreed to hold a week of meetings at the University of Cambridge beginning on Sunday, Nov 5th. When Moody entered the meeting hall he found it prepared to seat some twenty-five hundred students. The choir took their position and then several respected English ministers were seated on the platform in front of them. The doors swung open and 1,700 Cambridge students quickly entered the building.
The students came in laughing, talking and rushing for the seats near their friends. Little attention, if any was given to the opening hymn that was sung by the choir. Firecrackers were thrown against the window while young men beat their walking canes and umbrellas against the floor. Mr. Moody asked a minister on the platform to pray and students shouted and stomped their feet. Mr. Sankey's first solo was received with jeers and sarcastic demands for an encore. The reading of the Scripture was interrupted and Mr. Moody's message was almost completely drown out by the questions and loud noises coming from every corner of the building. Still others ridiculed Moody's American accent and his use of the English language. Nevertheless, Mr. Moody persevered patiently until a break in the commotion allowed him five minutes to appeal to the students. He requested for all those who "honored their mother's God" to stay for a short prayer meeting. The next day Mr. Moody arrived at the weekday meeting hall and found only 100 students in attendance, of which 70 were said to be members of the choir. Needless to say, Moody's greatest fears about ministering to college students seemed to be coming true.
Moody's Army of 300
For the next two days the meetings seemed to gradually improve. With the help of the faculty and a few influential students, the meetings became much more respectful and better attended. However, Moody still felt like there was something holding them back. It seemed like they had "come up against a brick wall". So, Mr. Moody wisely recruited the help of 300 reinforcements. No, not 300 Spartan soldiers, I'm referring to Moody's 300 praying mothers. On Thursday afternoon Mr Moody called together three hundred mothers from the town of Cambridge in the Alexander Hall to pray for the university students. Not all who attended the meeting had sons at Cambridge, but that didn't matter. Moody simply asked the women to pray for the Cambridge students as "some mother's sons." Mother after mother lifted their voice and cried out to God with streaming tears and fervent prayers – They asked God to come in power upon the young men of the university. As the mothers continued to pray something lifted and broke. Moody later said, "That night the tide turned".
A Student Awakening

Over the following days thousands assembled at the Cambridge meeting hall and attentively listened to Moody preach while the Holy Spirit quietly moved among them. Soon scores of students were broken, humbled and surrendering to Christ. Stanley Smith, C. T. Studd, and the gifted D. E. Hoste were among those who were powerfully converted at this time. These three students joined by four other Cambridge men soon formed what is known today as the "Cambridge Seven." Yes, these were the events that awakened and mobilized the famous "Cambridge Seven" and eventually changed the face of world missions. Every member of the Cambridge Seven was either converted or confirmed in their missionary calling as a result of D. L. Moody's visit to Cambridge. Strange as it may seem, all this happened without Moody ever mentioning missions or the needs of the world. However, Moody was always sure to emphasize the love and mercy of Jesus Christ over and over again. D. E. Hoste later confessed that it was not so much Moody's message that impacted him, but rather the way Moody appealed to God like an intimate friend. Hoste said he had never heard any man pray like that before. Chester Mann, commenting on these events said, "No man made or left a deeper impression on the student-life of England than Dwight L. Moody."
However, this was just the beginning of greater things to come. As the news spread about these seven Cambridge students who were forsaking all to go evangelize China, a new missionary enthusiasm began to sweep across England. Mr. Moody soon organized another series of student meetings back in America at Northfield, Massachusetts in the summer of 1886. These meetings would prove to be even more influential then those at Cambridge. Out of these student conferences came the Mount Herman 100, the Student Volunteer Movement and the birth of the modern student missions movement. This sequence of seemingly random events in Moody's ministry was the beginning of a revolutionary, new era in world missions. God accomplished more through these mother's prayers than anyone could have ever hoped for or imagined.
Praying for the Next Generation
When these mothers prayed, God faithfully answered and brought an awakening of His holy presence to the University of Cambridge. Yes, these brash young Cambridge men needed a mother's prayers – They needed prayers filled with faith, hope and compassion and they didn't even realize it. Several years ago when my grandmother passed away, my uncle read from her prayer diary at the funeral. Her little journal was filled with hundreds of prayers on behalf of all her children and grandchildren – That each one of us would serve and follow the Lord. Yes, long before I was even born, my grandmother had been faithfully praying for me, and I didn't even know it. At that moment I suddenly caught a glimpse of the eternal nature of intercessory prayer and how it keeps on working from generation to generation. We all need the support and prayers of our spiritual fathers and mothers. We must not forget how the blessings of the kinsman redeemer were poured out on the younger Ruth as she faithfully walked alongside the older and wiser Naomi. If at all possible, this is the way we should always seek to build up the Kingdom of Christ. God's blessing and favor just might depend on it in the future.
Moody's method of enlisting the help of praying mothers was not confined to just this one incident at Cambridge. Though not as well known as some of his other ministries, Mr. Moody established an ongoing union of praying mothers for over twenty-five years. Moody recognized the untapped power and potential of praying mothers and regularly sought their help and support during his evangelistic campaigns. Sometimes as many as 1,500 mothers would come together and fervently pray as Moody ministered to their sons and daughters. Few have so effectively and consistently used these intercessory graces as D. L. Moody. We would all do well to follow his example. The strength and wisdom of praying parents should be sought by all of us who are trying to impact this present generation, but I'm afraid there are not many who are willing to ask for it. This must change – The things that God has planned for the Church today cannot be fully accomplished without a multi-generational work of grace. We need the whole body, both young and old alike, working and praying together so we can be prepared to truly honor Christ in the coming days.
"Great is the LORD! He is most worthy of praise! No one can measure his greatness. Let each generation tell its children of your mighty acts; let them proclaim your power." Psalms 145:3-4